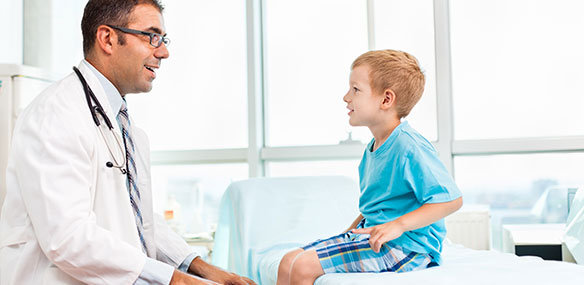 When your child has a urological disease, it is better to show a pediatric urologist who has the qualifications and training to treat them with compassion and care.
Dr. Sumanta Mishra is a proficient and well-known urologist in Bhubaneswar, with years of pediatric urology experience. His warm and friendly nature makes his young patients feel relaxed and comfortable.
He offers diagnostic tests and treatment options tailored for children at KIMS Hospital, Bhubaneswar, Odisha.
However, parents often do not know when to contact a specialist doctor, and this confusion wastes a lot of crucial time. So, in this article, we have discussed when you should consult a pediatric urologist for your child.
Pediatric Urologist Overview
Urology problems in children can range from minor to severe. Many minor urological disorders, such as vaginal or foreskin adhesions, infection of the urinary tract without fevers, and circumcisions for newborn baby boy, can be treated by your child's pediatrician or general doctor.
But it would be better if you consult a pediatric urologist if your child has urgent, chronic, or non-routine urological issues affecting their bladder, testicles, kidneys, ureters, urethra, or genitalia.
A pediatric urologist can help with a variety of problems, including:
Hernias in the scrotum or groin
Issues in passing urine (Ureteropelvic junction obstruction)
Scrotum veins enlargement (varicoceles)
Infections in the urinary tract accompanied by high fevers
Undescended testicles
Urine reflux from the bladder into the kidneys
Bladder or kidney stones
Kidney inflammation, usually detected before the birth of the child (Hydronephrosis)
Abnormal opening of the urethra (Hypospadias)
Inflammation near the testicle (Hydroceles)
If your child is experiencing any of the above issues, you can consult Dr. Sumanta Mishra, one of the best pediatric urologist in Bhubaneswar. He excels in treating children.
What symptoms should you be aware of?
Although some urologic disorders are severe, the majority of them do not necessitate immediate medical attention. If your child exhibits the following symptoms, you should make an appointment immediately.
The child has a painful protruding hernia that can be eased back into the body.
The testicles have a mass.
What treatments do pediatric urologists offer?
They diagnose and manage urinary tract infections, vesicoureteral reflux, and voiding abnormalities.
Provide surgical reconstruction of the urinary tract.
Kidney stone disease evaluation and surgical treatment.
Surgery for groin conditions.
Provide surgical intervention for tumors of the kidney, testis, and bladder.
A pediatric urologist evaluates and treats urinary tract issues detected before birth.
They diagnose and treat urinary tract disorders connected with neurological diseases like spina bifida.
Why should you visit a pediatric urologist?
The urological issues of children are different from adults. They require different treatments options and medications that suits their body. It is not possible to treat them as adults. That's why it is necessary to consult a pediatric urologist for your child.
Further, they are unable to always express their concerns. They cannot always answer medical inquiries or remain calm and cooperative throughout a medical check-up.
Pediatric urologists know how to deal with the unique requirements of children and their parents, including sensitive and personal topics such as voiding and genitalia issues. They understand how to evaluate and treat youngsters to make them feel at ease.
Pediatric urologists also frequently use equipment made specifically for youngsters. It makes children feel more secure.
Consulting a pediatric urologist ensures your child gets treatment from a doctor who has comprehensive, in-depth training and experience working with children with urinary tract diseases.
Is laparoscopic surgery safe for children?
Treatments for pediatric urological issues are tailored to the kid's individual needs. Medical management, behavioural modification, and surgery are all options for treatment.
If surgery is required, pediatric urologists prefer minimally invasive procedures to reduce discomfort, scars, and recovery time. The length of recovery is usually determined by the patient's age and overall condition.
In Bhubaneswar, laparoscopy treatment for pediatric urology is highly advanced. Improved intra-operative magnification and visibility, faster recovery, less post-operative pain and morbidity, and hence a lower analgesic demand are advantages of laparoscopic surgery over open procedures.
The hospitals are equipped with ultra-modern equipment and surgical techniques to perform urological surgery, resulting in safer and more effective outcomes with fewer problems and a shorter stay in the hospital.
Dr. Sumanta Mishra is a highly acclaimed pediatric urologist in Bhubaneswar, having extensive hands-on experience in pediatric laparoscopic surgeries. He offers treatment for a wide range of urology conditions and issues.

He has a special interest in kidney transplants and is the Head of Renal Transplant Surgery in KIMS Hospital, Bhubaneswar.